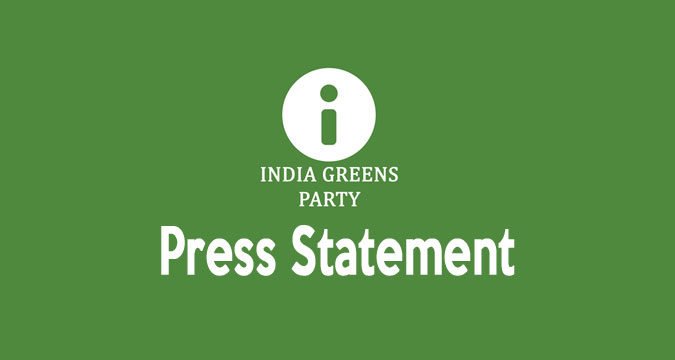 Press Statement 
New Delhi, 25 March 2020: The India Greens Party (IGP) has welcomed the Prime Minister's decision to lockdown the country for 21 days in view of the Novel Corona virus crisis; however it pointed out that Mr Narendra Modi did not make clear how common people would get water, food and other necessities like medicines and healthcare during the lockdown.
The IGP President Suresh Nautiyal said on Wednesday that it was good to observe social distancing to break the chain of Corona virus but the Prime Minister did not tell the people how they would maintain a safe distance from one another.
"We welcome that Mr Modi acknowledged that his directive would create very difficult time for the poor people but he did not make it clear whether exceptions would be made for workers, labourers and daily earners critical to keep the country functioning and delivering the essential commodities to the citizens," Mr Nautiyal pointed out.
The IGP President said the world is passing through a crisis of colossal dimensions due to COVID-19 and regretted that the governments the world over took necessary measures quite belatedly.
The pan-India green party leader said it is feared that more people would die of starvation in the absence of employment, food and medicines than due to Corona virus.
Mr Nautiyal said it is unfortunate that the administration is behaving like a police force and police force is functioning like mercenaries out to terrorise people by mercilessly beating them.
He said the time has come that the governments convert all large infrastructures like stadia into improvised temporary hospitals and make available all the resources to overcome the health crisis.
"Time is over for building statues," Mr Nautiyal said candidly.
The party President appealed to the Prime Minister Modi to allocate more funds and resources to defeat Novel Corona virus. "Whatever Prime Minister Modi has allocated to deal with the crisis is like peanuts only. He needs to create huge funds and infrastructures to seriously tackle the situation. Several governments in the world have provided billions and billions of dollars to fight the virus, but the India's Prime Minister first advised to observe a janata curfew and bang saucers and ring bells and now announced only a peanut fund," the IGP President said.
– Press Statement issued by the IGP Spokesperson Michael Rajchandra.
———————————————–
Registered Office: 104, 1st Floor Vardhman Complex, LSC, Savita Vihar, Delhi-110092.
Election Commission of India (ECI) Registration Number: 56/476/2018-19/PPS-I.
Email: indiagreensparty@gmail.com
Website: https://indiagreensparty.org