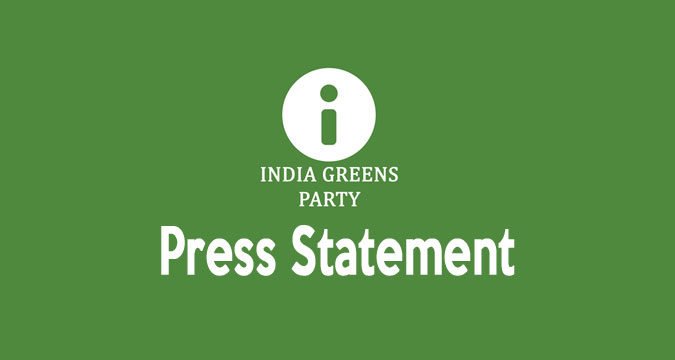 INDIA GREENS PARTY
Press Statement 
Unchir-Dunktok, Pauri Garhwal, Uttarakhand, 11 December 2021: On the occasion of the International Mountain Day today, the India Greens Party (IGP) said conservation of the mountains is a key factor for sustainable development.
In a press statement issued on the occasion, the iGP Chief Spokesperson Suresh Nautiyal said the threat to the mountains due to climate change and overexploitation is resulting in an ecological catastrophe.
He said it is a matter of concern that most of the governments are not concerned about doing anything substantial to save and conserve biodiversity of the mountains despite the fact that the mountains are home to 15% of the world´s population and host about half of the world's biodiversity hotspots, and provide freshwater for everyday life to half of humanity. Of the 20 plant species that supply 80% of the world's food, six originated and have been diversified in mountains: maize, potatoes, barley, sorghum, tomatoes, and apples, he said, adding that more than half of humanity relies on mountain freshwater for everyday life.
"It is very sad that the mountains are under threat from climate change and overexploitation. As the global climate continues to warm, mountain people, some of the world's poorest, are going through hard struggles to survive," Mr Nautiyal pointed out.
Mountains loom large in some of the world's most spectacular landscapes. Their unique topography, compressed climatic zones and isolation have created the conditions for a wide spectrum of life forms.
He said climate change, unsustainable farming practices, commercial mining, logging, and poaching all have a heavy toll on mountain biodiversity.
"We need to recognise the sustainable management of mountain biodiversity as a global priority," the IGP President added.
–Issued by Chief Spokesperson, iGP.
………………………………………………………………………………
(India Greens Party is registered with the Election Commission of India under Section 29A of the Representation of the People Act, 1951. Registration Number: 56/476/2018-19/PPS-I, effective from 18/07/2019.)
Registered Office: 104, Vardhman Complex, 1st Floor, LSC, Savita Vihar, Delhi-110092.
National Head Office: GreenDhamAnandiChait, IndraBalbhadraParisar, Unchir-Dunktok, PO-Ghurdauri, Patty-Idwalsyun, Distt-Pauri Garhwal, Uttarakhand, INDIA. PIN-246194.Email: indiagreensparty@gmail.com Website: https://indiagreensparty.org