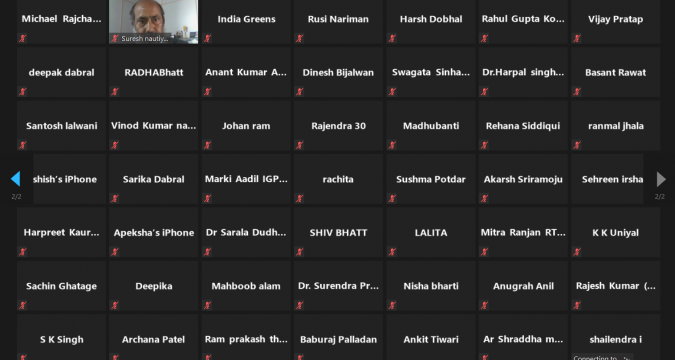 INDIA GREENS PARTY
Press Release
Unchir-Dunktok, Pauri Garhwal, Uttarakhand, 6 June 2021: "The governments over the years recognised eminent environmentalist Sunderlal Bahuguna and his work; but did not translate his ideas, thoughts and suggestions into action."
This was the crux of the conversation in a webinar on the life and work of Bahuguna held on the occasion of the World Environment Day (WED) on fifth June. The Social Media Committee of the India Greens Party (iGP) organised the webinar under its India Greens Dialogue series.
Bahuguna, 94, passed away in a government hospital in Rishikesh Uttarakhand on 21 May after Covid-19 related complications. He was born in the Tehri Garhwal Riyasat or Principality, not a part of British India, on 9 January 1927.
Ms Radha Bhatt (Former Chairperson of the Delhi-based prestigious Gandhi Peace Foundation and Patron of the Kausani-based Lakshmi Ashram that was founded by Sarla Behn for girls' education, and Chipko leader), Socialist-Green thinker Vijay Pratap (Founder of SADED – Harit Swaraj Samvad and Co-founder of Lokayan), senior journalist and professor Prof Harsh Dobhal of Doon University and RTE Activist Raghu Tewari were the speakers on the occasion.
Ms Ishpriya Kaur, Convener of the Social Media Committee of the iGP initiated the webinar by talking briefly about the party and its milestones. The iGP Founder-President Suresh Nautiyal moderated the webinar.
Ms Ishpriya Kaur told the participants how and when the iGP came into existence and how it grew after its initiation on 2 July 2017 and formal inauguration on 18 November 2018. She said the party's national head office was inaugurated on 26 January 2021 at Unchir-Dunktok in Pauri-Garhwal district of Uttarakhand.
She said the party has its national office bearers with footprints in 27 states and union territories, and units in various shapes in 14 states. She added that the party has 34 Committees to deal with various subjects – from membership and policies to implementation, and has 50 percent reservation for women at every level.
She informed the participants about the party's presence on various social media tools like Twitter, Instagram, Facebook, YouTube, etc.
Moderating the webinar, Mr Nautiyal said the webinar was being organised to remember a life full of wonderful work – a life that traversed the mighty Himalaya for a cause, for the sake of environment, for the sake of people living in the mountains or elsewhere!
The iGP President said Bahuguna was a freedom fighter, great environmentalist, people's teacher who taught environment in their language in accented Garhwali using idioms which are always a mix of grassroots wisdom.
"Several people painted him in shabby colours and had reservations about him. Yes, like any other human, he committed mistakes in his life, but these are just naïve if we compare them with his monumental work," Mr Nautiyal opined, adding that Bahuguna was a gentle and persuasive Gandhian carrying a steady personality in his simplicity.
Mr Nautiyal said it was Bahuguna who brought a paradigm shift in the environmental thinking in India and took it out of the academic books as he talked about environment at a time when even the Government of India did not have its Environment Ministry.
"At that time, he was able to say why Himalayan ecosystems were to be saved," pointed out the Green leader.
"Though the movement against the mega Tehri Hydro Project resulted in submergence of several villages and their ecosystems including trees, displacement of people, and seismic impacts, his contribution in the movement will always be remembered. He also undertook one of the longest fasts, over 56 days, after Independence against the Tehri dam project. Bahuguna will be remembered for his efforts to abolish untouchability and caste-based discrimination. He will be remembered for his support to the women's movement against tree felling," he added.
"He propagated the Chipko Movement beyond Uttarakhand and made it one of the best-known environmental movement of the country. Some people do not credit him for the Chipko Movement and I am also not sure what role he played at the initial stages of this movement," Mr Nautiyal articulated agreeing that he already carried several feathers on his headgear before the Chipko Movement came into light.
"Minus Chipko, he still was a great environmentalist and social reformer," Mr Nautiyal stated.
"Bahuguna also supported women's movement against liquor mafia in Uttarakhand Hills. He supported the Beej Bachao Andolan or Save the Seeds Movement to save the Himalayan agricultural biodiversity. Also, he undertook an untiring landmark awareness campaign in several parts of the country and the world, including — the Kashmir to Kohima Foot March — to bring attention to the entire Himalayan region," the iGP President said.
Ms Radha Bhatt, popularly known as Radha Bahin, said Bahuguna chose the path of social and environmental work at a time when he was on his steady political walk in the Congress party. He could have reached the political top, had he not chosen a tougher path.
She said Sarla Behn played a key role in the making of Bahuguna. He would start working on an idea once he was convinced and would not even wait for anybody to accompany him to do that task.
"Most of the times, he was doing padayatras alone to propagate his ideas in the Himalayan villages. At times, people like us accompanied him but nobody would match him. He looked alone but being determined and committed, he was never alone. He was going to villages all alone maybe because he did not find people of his match all the times. Despite all this, so many activists supported him in their owns ways and also joined the yatras led by him in several places in the Himalaya or elsewhere," she added.
"He did what he thought right. Now, it is our turn to do what we need to," said Ms Bhatt.
Mr Vijay Pratap said there is dearth of people like Bahuguna today. He helped several people in committing their lives for the environmental cause. He influenced old and new generations alike. He beautifully mixed science with folk knowledge and created new idioms, new paradigms.
"Bahuguna devoted most of his time to the environmental and social work in the Himalayan region but was able to influence people throughout the world. He was awarded the Right Livelihood Award for his work that had global impact. Today, we need to keep all his scattered work and writings in one place and create a repository of his knowledge," Mr Pratap pointed out.
"Now, we should learn from his teachings. His work against untouchability at a very conservative period of time was incomparable and we need to take that work further now," Mr Pratap said.
Prof Harsh Dobhal, who knew Bahuguna very well and also grew under his stewardship, said he knew Bahuguna since his childhood.
"I remember him visiting our place in a village in Tehri Garhwal and I recollect him writing all the time even if he took a small break during his padayatra to a village. He was such a simple person and with equal level of simplicity he used to explain his ideas to the villagers," he said.
Prof Dobhal stated that Bahuguna's whole life was devoted to environment and social work. It was amazing to see how he influenced the intellectual crowd at the JNU during a visit there a few decades ago and how several students got influenced by him and how they joined a march with him.
Dr Dobhal said the Chipko Movement is an ongoing collective consciousness and several people including Bahuguna made his contribution to the initiative.
Mr Raghu Tewari, a prominent Right to Education (RTE) activist and social worker, said it is an irony that the governments over the years recognised him and his work but did not implement what he said.
"We need his ideas, thoughts and philosophy implemented as ecology has changed a lot. To reverse it, we need to do some action that is motivated by the teachings of Nahuguna," Mr Tewari said.
Issued by the iGP Office Secretary & PS to President, Deepak Dabral, at the iGP National Head Office.
………………………………………………………….
(India Greens Party is registered with the Election Commission of India under Section 29A of the Representation of the People Act, 1951. Registration Number: 56/476/2018-19/PPS-I, effective from 18/07/2019.)
Registered Office: 104, Vardhman Complex, 1st Floor, LSC, Savita Vihar, Delhi-110092.
National Head Office: GreenDham AnandiChait, IndraBalbhadra Parisar, Unchir-Dunktok, PO-Ghurdauri, Patty-Idwalsyun, Distt-Pauri Garhwal, Uttarakhand, INDIA. PIN-246194.